About the Analyst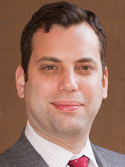 Neil Fleishman
is the Senior Industry Analyst for Green Markets. Previously, he worked at the Susquehanna Int. Group as a trading desk Sector Specialist covering both the industrial and energy markets for the firm. He also has experience as a portfolio analyst for Evergreen investments.
Neil, a thought leader, developed three Green Markets Global Fertilizer Quarterly: Supply & Demand, Production Costs and Pricing reports for Nitrogen, DAP/MAP and Potash. The research reports monitor the macro forces shaping global fertilizer prices across the spectrum of nutrients. Providing the foundation for strategic planning, these detailed market studies are an invaluable asset that informs and confirms decision making in an increasingly volatile and globalized fertilizer market.
Along with these models, Neil regularly provides custom consultation on fertilizer supply and demand, and is a featured speaker at numerous industry events.
Green Markets Research