Global 2015 Fertilizer Price Forecast

Find out how lower agricultural pricing will impact fertilizer demand and pricing.
Timely new research on the volatile fertilizer market and expectations for demand, key global market import export projections and global supply & demand outlook though 2019.
What's included:
Crop Yield vs Inputs — how the bumper crop in 2014 will impact demand for crop inputs into 2015 domestically and globally
Global Fertilizer 2015 Pricing Outlook — a look at existing and forecasted prices for nitrogen, DAP/MAP and potash for 2015 and beyond
Global Supply and Demand — analysis and data on the global outlook for potash, DAP/MAP and nitrogen supply and demand through 2019
Long Run Demand Forecasts — the impact of the appreciating US dollar and slowing global outlook on fertilizer commodities
Stay on top of fertilizer pricing dynamics with the Global 2015 Fertilizer Price Forecast.
The Global 2015 Fertilizer Price Forecast will be delivered to you electronically in PDF format.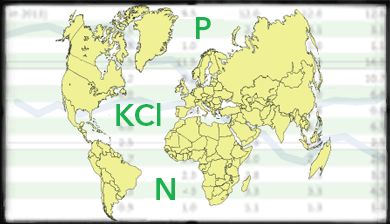 Order Global 2015 Fertilizer Price Forecast – one-time purchase for only $575
Green Markets research is priced for one authorized user only. For more information and custom licensing solutions for multiple users that will keep your organization in compliance with U.S. Copyright Laws, please contact Jonathan Wentworth-Ping, Director at jping@green-markets.com or call 1.603.357.8160.