Marketing Solutions
Bring your brand recognition to a new level with Green Markets. Choose from a variety of marketing services that combine trusted content, industry reach, and professional resources to meet your objectives.
As marketing and business development continues to become more challenging, companies need to find more innovative ways to grow. Competition isn't going away and targeted marketing programs are in order to successfully reach desired results.
Green Markets provides its clients with unrivaled access to the entire fertilizer value chain. From fertilizer manufacturers to distributors, retailers and growers, Green Markets leverages its 40+ year history to reach every corner of the fertilizer market.
Combining expertise across the spectrum of marketing and advertising media with deep professional services resources from its corporate parent, there is no marketing challenge too big (or too small).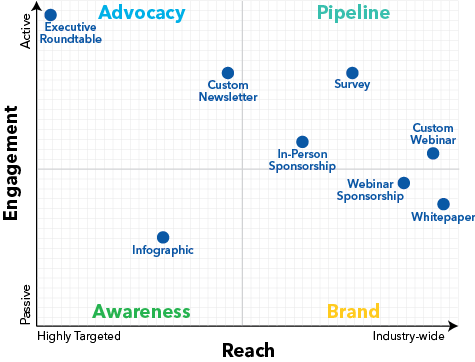 Call today for a free quote on the innovative marketing solutions available to you from Green Markets.
---
Custom In-Person Events
Green Markets designs and delivers custom events to highlight your brand, using our deep market and industry relationships and unique editorial perspectives. We'll clarify your business objectives and develop an agenda that features expert speakers in the field. You'll engage with your target audience in a more meaningful way.
This turnkey solution lets you focus on your core competencies while Green Markets and it's deep operational resources take care of the details. From agenda to speakers, facilities and audience development, no matter the size we'll create an event that your audience will value and enjoy. It's a great way to extend your brand in the industry.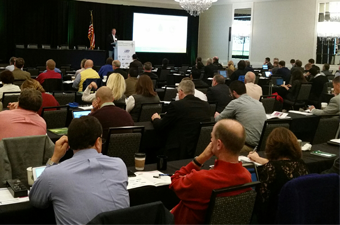 Recent project:
Arrange a highly interactive gathering of fertilizer operations professionals featuring exclusive content and networking opportunities.
---
Custom Market Surveys
Everyone needs more and better market data to enhance their company's performance. Green Markets offer best-in-class market research to deliver real time data to help guide your decision-making.
Survey programs can be multi-media, or singularly focused. You can answer one business question, or perhaps dozens following complex response scenarios. This turn-key solution gives you a variety of alternatives, so you get the right research effort for your budget and specific market data needs.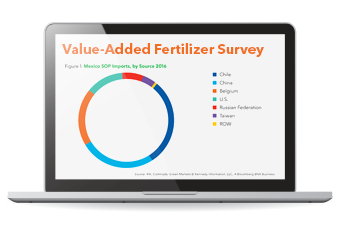 Recent project:
Survey the inland retailer market for insight on the uptake of value-added fertilizers for row crops.
---
Infographics
Infographics are powerful tools that help you present complex information clearly and quickly. They help you communicate your message visually, using tools including charts, tables, and interactive content.
If your marketing or branding ideas can benefit from a unique and memorable visual representation of your business data, market presence, operational process or more then let Green Markets show you a great solution. Our standard infographic package includes development of a static image file that can be embedded in your website or used as a standalone asset in other collateral.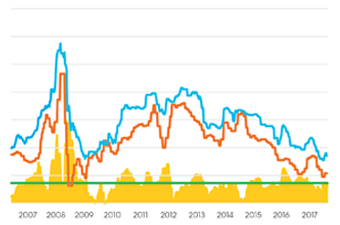 Recent project:
Create a visual representation of fertilizer prices and regional price disparity for an investor meeting.
---
Custom Newsletters
Build your brand's presence with your target market. Whether you're interested in using Green Markets proprietary market data, or using agri-news and insight from across the web, we'll build a custom newsletter package that meets your content and delivery needs.
From the latest developments in fertilizer market prices and sentiment to your most recent blog posts, this newsletter solution has the proven performance to provide your audience with timely content that elevates your brand. This turn-key solution allows you to focus on your business while Green Markets develops and distributes valuable content to your target audience. It's a great way to get, and stay, engaged.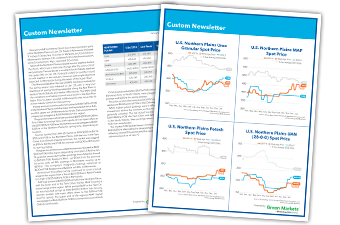 Recent project:
Create a cornbelt fertilizer market update for a lending company focusing on the grower market.
---
Webinars
Interactive webcasts are live streamed events that convene and engage a digital audience of decision-makers across geographies and businesses. The webcast format allows the virtual audience to participate in the event in real-time, with the ability to interact with the event moderators and review relevant event materials.
It's a proven medium to position your company as the leading expert on key topics and issues. Online webinars promote your brand, communicate thought-leadership, and generate leads. Green Markets utilizes the latest technology to provide a valuable turn-key webinar solution for your brand.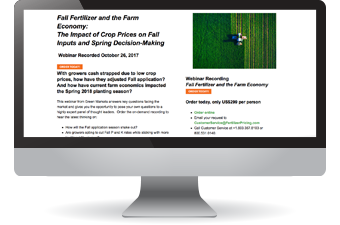 ---
White Papers
Green Markets provides the power to demonstrate your brand's thought leadership and set you apart from the competition. Our white papers are designed to engage senior level decision makers with deep insights on key topics and are a proven generator of the new leads you need to increase sales.
Our experienced team of content professionals will work with you to produce a detailed treatment of a single topic, drawing from Green Markets 40+ year price database and data analysis, third party and sponsor content.
---
Call today for a free quote on the innovative marketing solutions available to you from Green Markets.