Subscribe to Green Markets Fertilizer Dealer Report
Knowing your replacement cost is critical to effective fertilizer inventory management
Green Markets Fertilizer Dealer Report keeps retailers aware of wholesale and retail market prices for the full range of fertilizer products in their region, and uncovers the market sentiment that's driving price shifts.
Fertilizer Dealer Report is trusted by thousands of fertilizer dealers to help make well-informed business decisions. Each week, Green Markets Fertilizer Dealer Report tells you what dealers and wholesale buyers are actually paying for fertilizer at the point of sale, in your specific region.
Each weekly issue provides a comprehensive fertilizer price table covering every region in the U.S. and Canada, along with full market sentiment reports on 5 North American regions! The key Cornbelt regions are covered with full market report every week — all other regions are featured on a rotating basis.
PLUS: regional market insight on price influences including supply/demand balance, transportation, weather, outages, regulation and more.
Subscribe to Green Markets Fertilizer Dealer Report, and get immediate access to: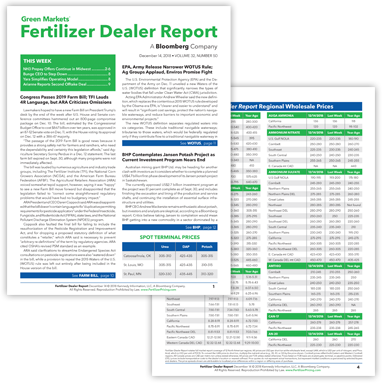 Subscribe today for only $590! You'll get a full year of exclusive fertilizer pricing and market insight!

Still not convinced? Download a sample issue
For a free demonstration contact Lisa Robel. Call +1.603.357.8181 or email
lrobel@green-markets.com
.
Do you have more than one person in your organization, or more than one office that would like to have access? Contact Lisa Robel at lrobel@green-markets.com or call 1.603.357.8181 for custom licensing solutions that will keep your organization in compliance with U.S. Copyright Laws.
Prevailing wholesale prices for the most widely used fertilizers:

Ammonia
Urea
UAN
Ammonium Sulfate
Ammonium Nitrate
CAN-17
DAP
SOP-Magnesia

MAP
TSP
10-34-0
16-20-0
Phosphoric Acid
Potash
Potassium Sulfate
Potassium Nitrate

Regional market insight includes coverage of:

Eastern Cornbelt
California
Northern Plains
Eastern Canada
Pacific Northwest
Great Lakes

Western Cornbelt
South Central
Northeast
Southeast
Southern Plains
Western Canada

Benchmark retail prices includes coverage of:

Urea
Ammonium Sulfate
MAP

Inland regional prices covered:
Every week you'll receive notification that the latest issue of Green Markets Fertilizer Dealer Report is available for downloading in PDF format.
PLUS you'll also receive –
Breaking News Alerts – A global network delivers fertilizer industry intelligence to your email as it happens to ensure you stay current during this period of volatile market activity.
Green Markets U.S. Weekly Fertilizer Price Index — Your proprietary benchmark to gauge the relative strength of U.S. fertilizer prices gives you remarkable clarity on the market's dynamics.