Subscribe to Green Markets:
the authoritative weekly report on the global fertilizer industry
Current fertilizer prices, reports on localized fertilizer markets, and the news you need to operate in the fertilizer industry
For over 40 years Green Markets is the trusted source for fertilizer market data.
Find out why fertilizer manufacturers and aligned industry professionals from around the world say Green Markets is absolutely critical to their business processes.
Green Markets gives you instant web access to time-sensitive fertilizer market intelligence, including more than 350 trusted and independent price assessments on 26 different fertilizer commodities.
Each weekly issue includes local market reports for ammonia, urea, and other nitrogens, phosphates, potassiums, sulfurs and blends. On-going news coverage delivers insight on industry management moves, updates on alliances, mergers and consolidations and much more.
Green Markets subscribers benefit from original and exclusive coverage of: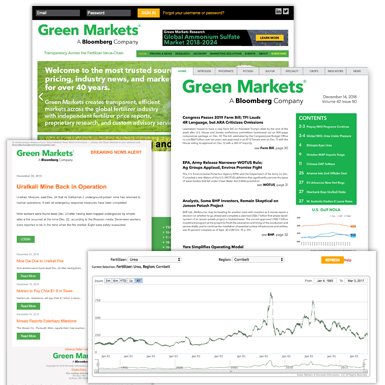 Annual subscriptions start at US$2,105
for qualified organizations.
Still not convinced? Download a free sample issue.
For a free demonstration contact Jonathan Wentworth-Ping. Call +1.603.357.8160 or email
jping@green-markets.com
.
Do you have more than one person in your organization, or more than one office that would like to have access? Contact Jonathan Wentworth-Ping at jping@green-markets.com or call 1.603.357.8160 for custom licensing solutions that will keep your organization in compliance with U.S. Copyright Laws.
Fertilizer Prices & Market Assessments
Corporate Activity

Mergers, acquisitions and joint venture announcements and ongoing coverage
Key personnel changes within fertilizer companies
Litigation, settlements
Fertilizer company earnings from around the globe

Government Activity

Regulatory action and enforcement
Fertilizer trade policies, tariffs, taxes and subsidies
Environmental regulation
Antitrust actions

Events Affecting Fertilizer Supply

Plant start-ups, closures and turnarounds
Port delays, terminal shutdowns
Transportation and supply chain issues
Impact of severe weather
PLUS —
Breaking News Alerts — A global network delivers fertilizer industry intelligence to your email as it happens to ensure you stay current during this period of volatile market activity
Interactive Market Analysis Tools — Your subscription includes access to a fertilizer pricing and news archive to analyze pricing trends and research significant industry developments. Leveraging 40 years of industry intelligence, this unique platform offers you:
Interactive Price Chart — View the fertilizer prices that are critical to your business across a time series of your choice. You'll select from any combination of fertilizer, region and date range to analyze current price movements in context with historical patterns and significant market events.
Green Markets U.S. Weekly Fertilizer Price Index — Your proprietary benchmark to gauge the relative strength of U.S. fertilizer prices gives you remarkable clarity on the market's dynamics.