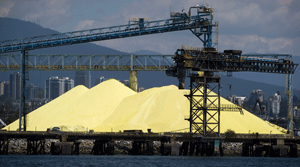 In-person Conference

Insight on Ag and Indusry
October 1-2, 2019
InterContinental Buckhead Atlanta
The Sulphur Products Summit was co-hosted Bloomberg/Green Markets and Acuity Commodities on October 1st and 2nd, 2019 in Atlanta. It was the second event on which Green Markets and Acuity Commodities have partnered together, the first being in May 2017.
This conference differs from other sulphur events in that it is focused on all commercial aspects of the various agricultural and industrial uses of sulphur products. We assembled a faculty of speakers that represented various industry segments include waste-water treatment, pulp & paper and of course agriculture.
As Tampa Sulphur prices have lost half their value since the start of 2019 and Phosphate fertilizer prices have dropped by almost 30%, all participants were understandably nervous about where the Sulphur (and related) markets are headed. Fiona Boyd, President of Acuity made detailed presentations on the current market state and future outlooks for both Sulphur and Sulfuric Acid whilst Alexis Maxwell, new research director at Green Markets, discussed the trends and outlooks for both the Phosphate and Ammonium Sulfate markets.
The topics also included such subjects as marine 'bunker fuel' regulations (IMO 2020), Alkylation in the fuels space, natural gas markets and sulfuric acid use in the metals and mining industry.
See list of all speakers and presentation topics below. If you would like to purchase any of the presentations, or would like to know more about Green Markets' coverage and research of the Phosphate and Sulphur markets, please contact Jonathan Wentworth-Ping at: jping8@bloomberg.net

---
Sulphur Products Summit
Attendees of Sulphur Products Summit leave with the expert insight needed to effectively plan for the short, medium and long-term success of their business. One of Green Markets annually produced events Sulphur Products Summit has featured the following previous session topics, speakers and sponsors.

2019 Presentations:
An Industrial Economic Outlook: A Precursor for Sulphur Supply and Demand
John Baffes, Senior Economist, World Bank Group
Nat Gas and Crude: An Outlook for Cyclical and Structural Drivers
Vince Piazza, Senior Energy Analyst-Global Energy Research Coordinator, Bloomberg Intelligence
IMO 2020: Insight and Implications for the Global Sulphur Industry
Ralph Grimmer, Senior Associate, Stillwater Associates
Global Sulphur Market Review and Outlook: Supply, Demand and Prices
Fiona Boyd, Director, Acuity Commodities
Market Trends in Water Treatment Impacting Sulphuric Acid Demand
Nicolas Bernier, Corporate Procurement Manager, Chemtrade
The Shifting Paradigm of the Sulphur Fertilizer Industry
BJ Harrington, Marketing Manager, Tiger-Sul Products, LLC
The Impact on Sulphuric Acid Demand From a Rebound in Pulp and Paper Production
Chaoyi Chang, Renewable Bioproducts Institute, Georgia Tech
What's Powering the Alkylation Market?
Armond Johnson, Business Director, Eco Services – PQ Corporation
The Current State of Sulphuric Acid Transportation: A Supplier's View
Tom Hobbs, Trader, Glencore
Phosphate Production Outlook
Alexis Maxwell, Research Director, Green Markets
Global Sulphuric Acid Market Review and Outlook: Supply, Demand and Prices
Fiona Boyd, Director, Acuity Commodities
Metals and Mining: An Expert View, Latest Projections
Andrew Cosgrove, Global Head, Metals & Mining, Bloomberg Intelligence
Ammonium Sulfate and Ammonium Thiosulfate Market Outlooks
Alexis Maxwell, Research Director, Green Markets