Informed decision-making starts with Green Markets Brazil (English edition), your reliable source of data and analysis on the Brazil fertilizer market.
Uncover current fertilizer price levels, market sentiment, and analysis of all the factors influencing prices in the Brazilian domestic market.
Leveraging extensive fertilizer industry experience, a reliable price assessment methodology and extensive data resources, Green Markets Brazil delivers a weekly, unbiased and objective analysis of the Brazil fertilizer market.
Whether you operate in fertilizer manufacturing, trading, transport, distribution or agricultural production, Green Markets Brazil gives you the deep insight you need to operate effectively in the marketplace.
Green Markets Brazil (English edition) subscribers benefit from original and exclusive coverage of: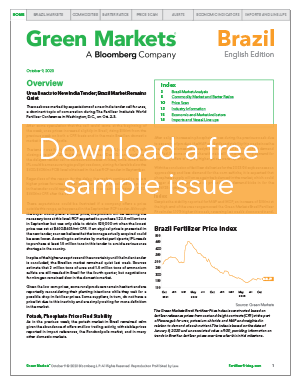 Annual subscriptions start at US$1,997
for qualified organizations.
Fertilizer Prices and Market Assessments
Quickly find current prices for 50 fertilizer markets like urea, MAP, TSP, SSP, ammonium sulfate, potash (KCL). analysis also includes Brazil and China urea futures prices.
These trusted price reports are utilized by fertilizer market participants around the globe to ensure they stay current on Brazil price levels.
PLUS local market reports for CFR markets and in critical FOB regions like Mato Grosso, W. São Paulo, Paraná, Bahia and Rio Grande do Sul.
Fertilizer Industry Alerts
Stay informed with on-going Alerts on the important changes happening in the Brazil fertilizer sector.
With coverage from analysts across the globe, you'll stay current on the industry developments that impact your business.
Coverage includes mergers, divestitures, acquisitions and joint venture announcements, as well as information on litigation, revenue, government activities, management moves, trade policies, start-ups, plant shutdowns or closures, port delays, terminal shutdowns and more.
Economic Indicators
Relevant economic data combined with exchange rates, grain prices and more.
These valuable, curated data sets give the entire fertilizer supply chain enable a deep understanding of the main variables impacting the Brazilian market:
Data and analysis includes:
Urea imports
MAP imports
Ammonium Nitrate imports
Ammonium Sulfate imports
Shipping rates from Brazil to China
Grain freight rates: Handysize
Probability of recession in Brazil
Corn prices vs. urea, KCL
Soybean prices vs. MAP, KCL
Inland grain truck freight rates
Crop futures prices and markers
Currency trends vs. USD
Current and predicted USD/BRL rate
Fertilizer Ship Lineup
This weekly update of fertilizer ship arrivals – "lineup" – provides comprehensive coverage and details vessel name, specific fertilizer cargo, estimated arrival and docking date, buyer and supplier.
You'll get full coverage of the main import ports in Brazil, such as:
Paranaguá e Antonina
Rio Grande
Santos
Vitória
Further expert analysis gives you clarity on the potential for supply side adjustments in the short- and medium-term across fertilizer products.